Sale!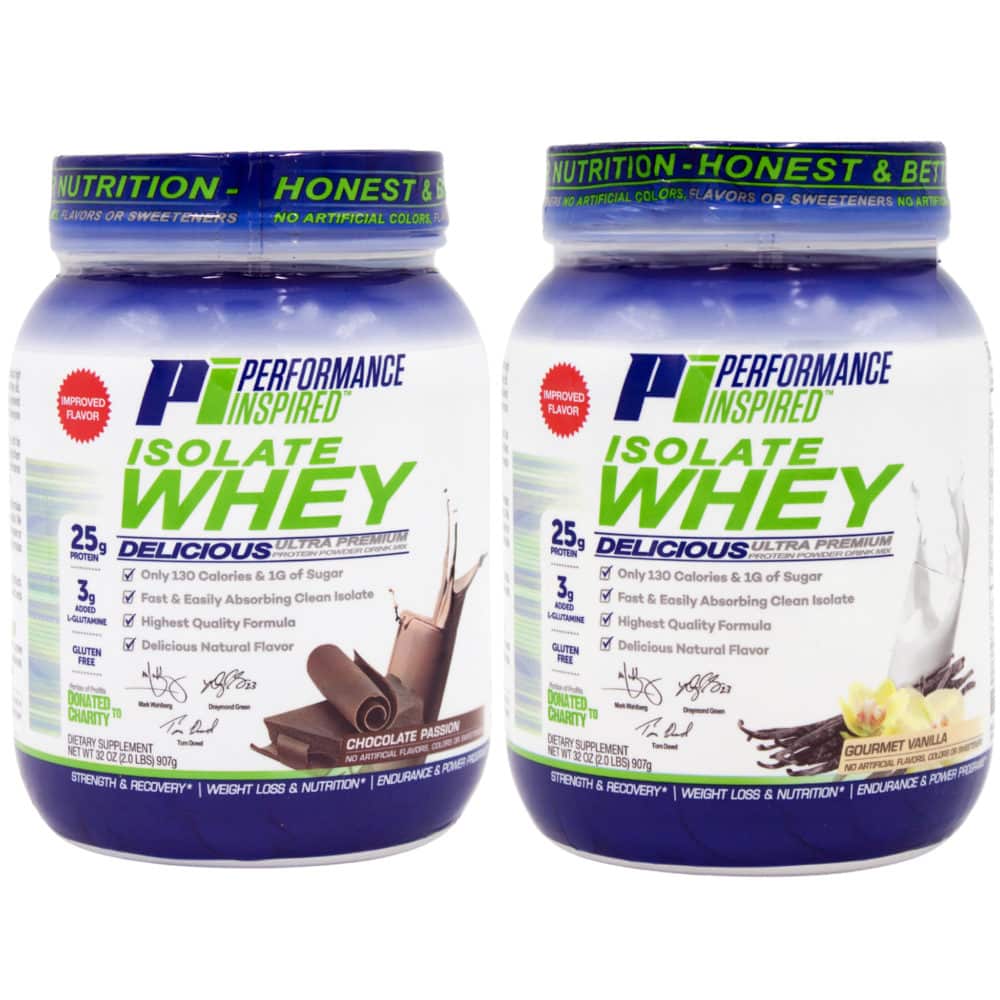 Isolate Whey
Our delicious natural Isolate Whey is ultra-pure and fast absorbing to help support muscle growth, faster recovery, diet goals, and your overall fitness lifestyle. We took the best Isolate Whey and then added a meaningful 3 grams of L-glutamine to increase the value and to help crush your fitness goals! L-glutamine is expensive, but we love the added benefit it provides! When you compare our value and natural formulas, you will upgrade your nutrition to Performance Inspired!
Each serving contains a FULL 25g (most use 24g to save money) of high-quality protein, then we added 3g of L-glutamine (not included in the 25g protein count) with only 1g of sugar and 130 calories! Isolate Whey Protein has a higher protein content per gram and is lower in carbohydrates, lactose, and fat. Plus, you get a full 5.5 grams of naturally occurring BCAAs in every serving! So get on your #Peloton, get into the gym, or simply use to boost your energy and replace an unhealthy food choice with PI!
Our containers offer 25-26 servings of quality protein (depending on the flavor) that mixes completely and easily. Our Isolate Whey is sweetened with stevia and other natural flavors to give you a clean, gluten-free, fast-digesting, and fast-absorbing formula you will love!
We NEVER use "nitrogen spiking" or "amino spiking" to boost any of our proteins, and we put our names on our products because we stand behind every product! We always provide clean, honest products without the overblown marketing and claim hype most other brands use!
Fuel your active lifestyle:
Create amazing smoothies and use in your healthy recipes
Perfect for any #keto or low-sugar, high-protein diet program
Support your pre- and post-workout or diet program
Fast and easy! Mixes easily just using a glass and spoon
25 FULL grams of rapidly digesting whey protein with low levels of fat, cholesterol, lactose
Natural, so you don't have to settle for artificial ingredients—because natural is better
You will start telling everyone how much you love PI products—Please!
We put our names on the label because we are proud of and stand behind our products! We are honest in our marketing and formulas!
Compare and you will trade-up to Performance Inspired. #InspiredToBeBetter
Give us a shout-out, follow @PerformInspired, and tag #PerformanceInspired or #InspiredToBeBetter. Real customers are our brand ambassadors, so we need and would love your support!
Performance Inspired Natural Isolate Whey also has 3g of added L-glutamine (not counted in the 25g protein amount) to help preserve muscle tissue. L-glutamine is expensive, but we love the added fitness benefit it provides! Compare and you will upgrade your fitness and active lifestyle nutrition!
| | | | |
| --- | --- | --- | --- |
| BCAA | | g/serving | BCAA (g/serving) |
| Naturally Occurring BCAAs: | | | |
| PI Hydro Isolate Whey Choc 2lb | | 36.24 | 5.76g |
| PI Hydro Isolate Whey Vanilla 2lb | | 34.79 | 5.81 |
Isolate Whey Protein will have less fat, cholesterol, lactose, carbohydrates, and calories than most other proteins on the market. It is therefore a common choice for those looking to maintain low levels of body fat but who still require protein to help their muscles repair and recover.
Available in delicious and natural Chocolate Passion and natural Gourmet Vanilla.
Our Isolate Whey Protein supports your Keto Diet with low carbs and sugar. What is a Keto Diet? A Keto—short for ketogenic—Diet is a low-carb diet in which the body produces ketones in the liver to use as energy in lieu of carbohydrates. In a Keto Diet, 80% of your diet is comprised of fat, 15% is protein, and only 5% should come from carbs. For someone on a 1,500-calorie diet, that translates to 19 grams of carbohydrates per day, which is less than you will find in a medium apple.
Available in 2 lb. containers.
We put our names on the label because we are proud of and stand behind our products! Honest marketing and formulas you can trust!
Add a Review
Add a review!!!
Love the Protein
I like that it is a natural protein, doesn't leave a bad taste in your mouth. Mixes perfectly with my oatmeal and fruits.
Excellent protein
No chalky taste and perfect drink for after a workout
Perfect protein!
Performance Inspired makes great products! Protein shakes mix easy and taste great! Thanks
The best!
I love the taste and the results I get from the isolate whey. Mixes quite well and definitely has the protein to fuel me up after a two and a half hour workout!