Sale!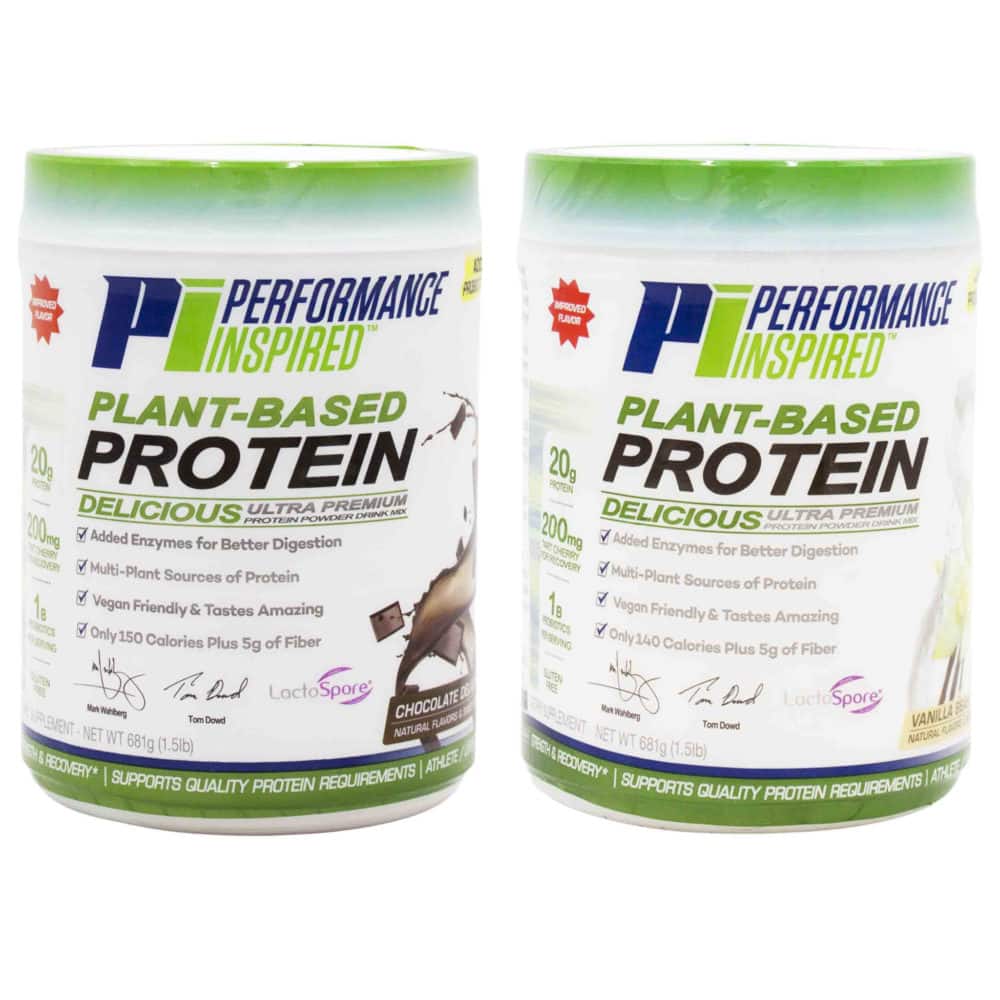 Plant-Based Protein
Loaded with 1B probiotics to help with your digestive health, our Plant-Based Protein contains 200mg of tart cherry for recovery, 20g of multi-plant source protein, and 5g of filling fiber with soothing digestive enzymes to help you get the most out of your protein intake. We use clean, natural ingredients with ZERO sugar alcohols and no soy. Best of all, this Plant-Based Protein is both lactose and gluten free, so even the most sensitive of digestive systems can benefit. Vegan friendly and delicious!
If you have seen the documentary Game Changers and have moved to a plant-based diet, you will value and love this healthy and delicious protein! It's a top seller, and we know you will love the formula and taste! Having healthy and good options makes sticking to the plant-based lifestyle much easier! Please share your smoothie recipes with us. @performInspired! #LoveOurCustomers
Our Plant-Based Protein exceeds the highest demands of today's vegetarian and active-lifestyle customers with the most diverse nutritional needs. As with all of the Performance Inspired supplements, this protein is all natural and has a natural and clean taste profile you will love! We put our name on the front because we are proud to stand behind our products!
Available in robust Chocolate Delight or Vanilla Bean flavors. 1.5 lb container.
PI products support your Keto Diet with less carbs and sugar. What is a Keto Diet? A Keto—short for ketogenic—Diet is a low-carb diet in which the body produces ketones in the liver to use as energy in lieu of carbohydrates. In a Keto Diet, 80% of your diet is comprised of fat, 15% is protein, and only 5% should come from carbs. For someone on a 1,500-calorie diet, that translates to 19 grams of carbohydrates per day, which is less than you will find in a medium apple.
Give us a shout-out, follow @PerformInspired, and tag #PerformanceInspired or #InspiredToBeBetter. Real customers are our brand ambassadors, so we need and would love your support! 
Click for: Directions
Click for Supplement Facts Panel: Chocolate Delight / Vanilla Bean
Give us a shout-out and tag #PerformanceInspired and #InspiredToBeBetter. Real customers are our brand ambassadors! #GameChangers #PlantBased
Our super clean, high-quality gluten-free Plant-Based Protein is loaded with a BIG 1 billion of healthy probiotics to help with your digestive health, 200mg of tart cherry, and a full 20g of multi-plant source protein. PLUS, we added 5g of filling fiber along with powerful digestive enzymes to help stop bloating! High value all in one amazing formula you will love! Compare and you will upgrade to Performance Inspired!
Our plant protein contains only natural ingredients and has zero sugar alcohols and zero soy. This low-sugar/calorie protein is also lactose and gluten free—a value-packed formula without any artificial sweeteners, flavors, or colors! Compare and you will upgrade to this complete natural protein containing the best ingredients, including probiotics, tart cherry, and our powerful enzyme and fiber formula.
Our product is free of banned substances and is always made in world-class GMP facilities. We give you honest marketing and formulas you can trust!
Our high-value product with only natural plant ingredients will help you exceed your protein and health goals each day! Fuel your life with nutrition you can trust. We put our names on the front because we are proud and stand behind our products! Honest in our marketing and our formulas!
Compare our formula, quality, and high-value easy-mix formula, and you will upgrade to Performance Inspired!
Support a healthy diet with the added nutrition you need with our clean and robust protein formula that offers:
A weight loss and nutritional boost
An addition to your healthy recipes
A boost to your exercise recovery
Assistance in increasing muscle size and strength
A way to manage weight and lean mass objectives (it's perfect for any athlete or activity level)
A perfect way for anyone recovering from a health setback to supplement protein intake
Mix one scoop in 8-12 oz of your favorite beverage and blend/mix well. Use between meals 1-3 times a day. Enjoy mixing into your recipes to boost the nutritional value.
We love mixing in frozen blueberries, a banana, and/or peanut butter powder. Please share your own smoothie recipes! Of course, drinking it with nothing added is always the perfect no-cheat and healthy, filling treat!
Ride your Peloton, hit the gym, take a walk, and make healthy and natural nutritional choices with Performance Inspired!
Give us a shout-out and tag #PerformanceInspired and #InspiredToBeBetter. Real customers are our brand ambassadors!
Available in natural Chocolate Delight and Vanilla Bean flavors. 1.5 lb. container.
Save
Save
Save
Save
Save
Save
Save
Save
Save
Save
Add a Review
Add a review!!!
Plant Based Protein Powder
This is absolutely the best protein powder I have ever tried. I use both the chocolate and vanilla flavors for various things and have been for over a year. I use it in shakes, smoothies, baking, and many more applications. Over all this is a company I really trust for my supplements!
Great, healthy product
I love this protein blend. I used Whey before but it just became too heavy on my stomach and this is ideal substitution for me. I'm much more plant oriented now, and I do feel better and healthier about it. Mark Wahlberg was a great and true inspiration for me and I love his brand and direction he's taking this company and products. It taste good, easy to mix, easy to digest, healthy. What else could you ask for? :)
Protein and apple cider
Great products, tasty flavor in protein, apple cider great pills i will keep buying them from now on.
Pleat based?
It's interesting that you sent this because I normally love all things PI, but this protein is not good. It's just way too sweet! I noticed that there was a small note at the top "improved taste" and also that it has pure sugar And stevia in there. ?? Anyway, I'm returning and going back to whey based…!
Clean and powerful blend
I have taken the plant base protein and it has work great for me and my objectives. Easy to digest, blends great and it gives me that extra protein to reach my daily goals!