Sale!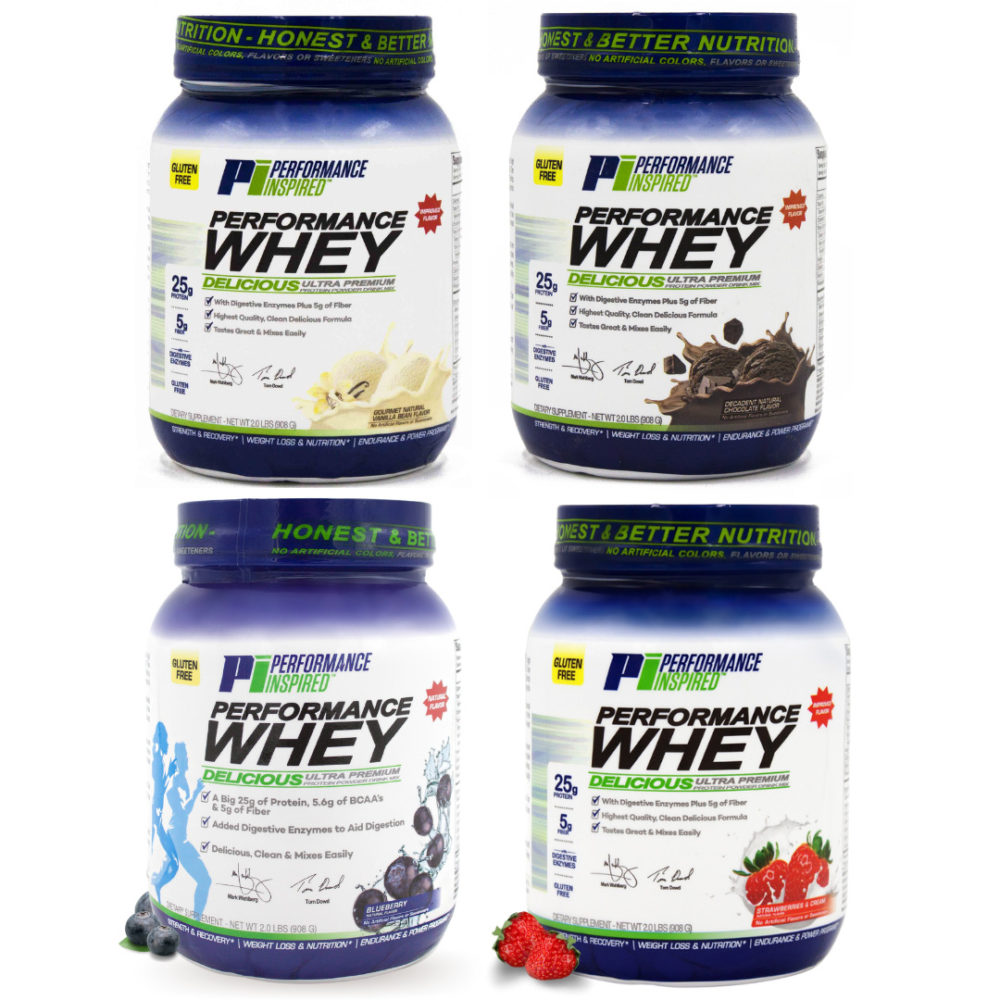 Performance Whey Protein
$19.99 $35.99
SEASONAL FLAVOR: BLUEBERRY NOW AVAILABLE!
*Blueberry Performance Whey Protein close-dated 6/16/23*
WHILE SUPPLIES LAST
Our delicious high-value premium-blend Whey Protein formula is packed with a full 25g of clean protein, with added digestive enzymes and 5g of fiber for healthy and fast digestion and dieting satiety! This is no ordinary whey!
You will quickly realize why so many people love our products, from hardcore and professional athletes to the everyday athlete who is just starting the healthy journey and wants clean, quality products he/she can trust. Owners Mark Wahlberg and Tom Dowd never settle for mediocre, and they created PI to cut through the current offering of brands with BS claims and bad formulas loaded with artificial and sketchy ingredients. We are a healthy lifestyle brand with a commitment to helping inspire others to be healthier and more active and to proudly give back to charity through our profits.
Reasons you'll love our formula:
It provides a full 25g of clean whey (most only give you 24g to save money)
It's bloat free with powerful digestive enzymes and rapid absorption
It contains fiber for digestive health and weight loss
It mixes easily with just a shaker
It contains no aspartame or any other artificial ingredients
It has natural BCAAs for lean muscle support and recovery
It's an amazing value for natural ingredients (artificial is always much cheaper)
It has an incredible natural and clean flavor profile people prefer
Its natural enzymes help you get the most protein uptake
~ 2 lb. tub of healthy and delicious quality whey. We also have single-serve pouches in 12-count boxes.
Our value-packed formulas are made without any artificial sweeteners, flavors, or colors, because ingesting artificial anything doesn't make sense to us or meet our high standards. We expect better from ourselves and for you! It costs a lot more to be natural, and it's much harder to formulate our products because we use real cocoa and vanilla beans instead of just dumping artificial flavor drops into the mix. You can trust that our clean taste profile is good for you. Compare and upgrade to PI and exceed your diet, nutrition, and fitness goals!
We put our names on our labels because we are proud to stand behind all of our incredible products!
We are honest in our marketing and never use bodybuilder hype or paid endorsers. We use real customers! Plus, we offer clean, simple formulas with meaningful and proven ingredients you can trust!
Give us a shout-out, follow @PerformInspired, and tag #PerformanceInspired or #InspiredToBeBetter. Real customers are our brand ambassadors, so we need and would love your support!
Save
Save
Save
SEASONAL FLAVOR: BLUEBERRY NOW AVAILABLE!
WHILE SUPPLIES LAST.
Performance Whey is pure, quality protein that helps supplement your active and healthy lifestyle with a FULL 25g of clean protein with added digestive enzymes to help with bloating and absorption, plus full 5g of healthy and filling fiber! This all adds up to a high-value formula that will exceed your taste and performance expectations! We NEVER use "nitrogen spiking" or "amino spiking" to boost any of our protein claims. Also honest great formulas and label claims….our names are on the label because we are proud and stand behind every product!
No synthetic additives or fillers, just quality ingredients you can trust. Whether you're looking for strength and recovery, weight loss and nutrition, or endurance and power, this delicious Performance Whey formula is the perfect way to naturally improve your performance. Our Natural Decadent Chocolate, Vanilla Bean, or Strawberries and Cream is simply perfect!
*PI products support your Keto Diet with less carbs and sugar. What is Keto: 80 percent of your diet comprised of fat, 15 percent is protein, and only 5 percent should come from carbs. For someone on a 1,500-calorie diet, that translates to 19g of carbohydrates per day, which is less than you will find in a medium apple. Keto—short for ketogenic—diet is a low-carb diet, in which the body produces ketones in the liver to use as energy in lieu of carbohydrates.
Formulated to Help Supply Energy to Muscles and Support Muscle Protein Synthesis with Naturally Occurring BCAAs:
| | | | | |
| --- | --- | --- | --- | --- |
| | Product | | g/serving | BCAA (g/serving) |
| 1 | Performance Whey Chocolate 2lb | | 40 | 5.55 |
| 2 | Performance Whey Straw & Cream 2lb | | 39 | 5.58 |
| 3 | Performance Whey Vanilla Bean 2lb | | 39 | 5.53 |
| | | | | |
| --- | --- | --- | --- | --- |
| 4 | Performance Whey Blueberry 2lb | | 39 | 5.6 |
Taking whey protein is a convenient way to add a healthy & quality protein to support your low-sugar, low carb diet and healthy lifestyle & fitness goals. Set your goals and then exceed them with the proper nutrition!
Compare and you will trade-up to Performance Inspired Nutrition.
Thank You and Stay Inspired,
Mark Wahlberg & Tom Dowd
#InspiredToBeBetter
~ 2 lb. Container
Add a Review
Add a review!!!
Great!
I'm using PI creatin,proteins and protein bars! All are awesome!!
Performance Whey Protein
Delicious taste, easy to dissolve in a shaker!!
Blueberry is Amazing!!
The place I usually purchase from was out of all PI products, so I decided to hop online and check. I bought the blueberry on a whim because it was on sale. And wow, it is delicious. I hope the "seasonal" means it will come out every blueberry season, and that this was not just a limited run!! I'll be stocking up on more to last me awhile...
Excellent
I love it, the strawberry cream tastes great. Huge thanks to Mark Wahlberg, big fan!
Tastes so good!
I've had vanilla and chocolate from here and both are sooo good! Best protein I've had yet and is very clean. Wouldn't choose any other one.