Sale!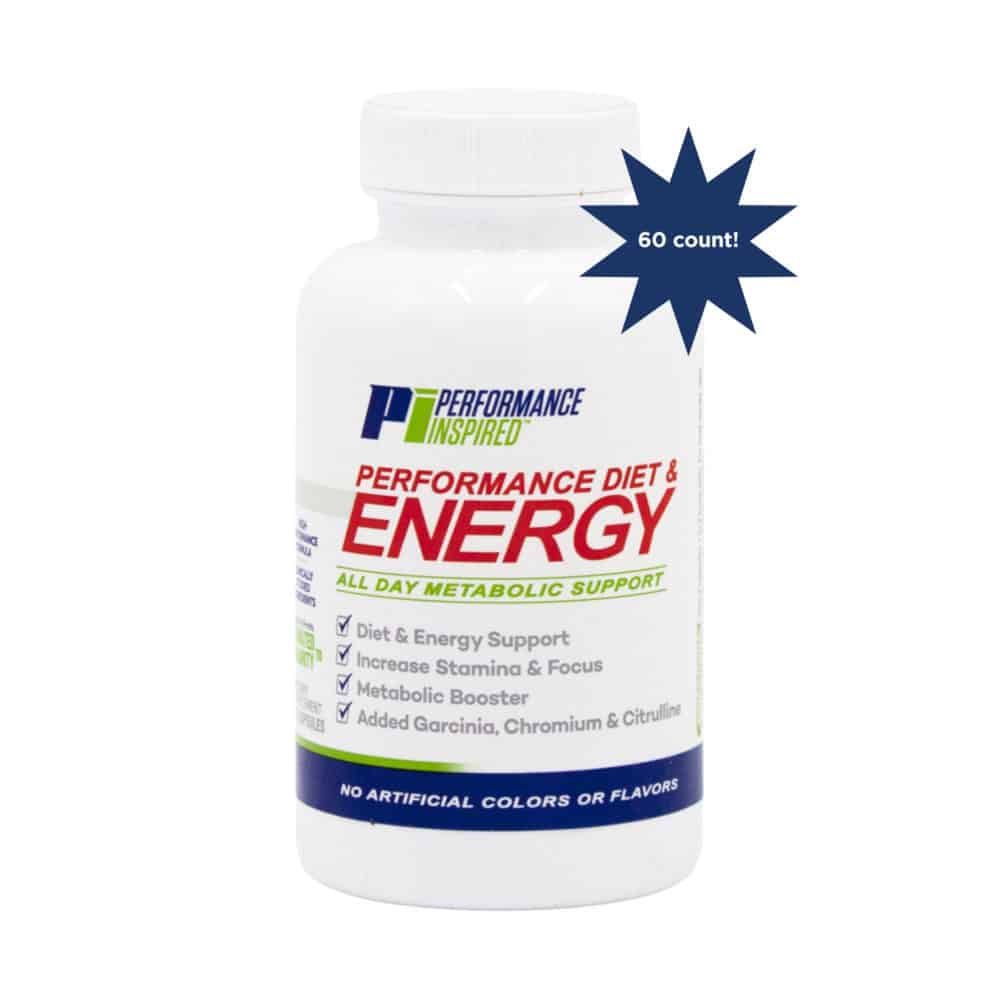 Performance Diet & Energy
In stock
Energy & Diet Support That Will Fuel Your Day!
This natural Performance Diet & Energy supplement provides all-day metabolic support to help you energize your day and minimize your hunger. Our balanced and meaningful formula is a great value with a BIG 367mg of green coffee bean extract, 500mg of garcinia cambogia, 100mg of citrulline, and 200mg of green tea leaf extract, plus other support ingredients to turbocharge your day! Our proven formula will help increase your stamina and focus and will help you exceed your fitness and diet goals. So convenient and so effective that we promise you will love and use it everyday to enhance your active lifestyle.
Compare and trade-up to Performance Inspired!
Give us a shout-out, follow @PerformInspired, and tag #PerformanceInspired or #InspiredToBeBetter. Real customers are our brand ambassadors, so we need and would love your support!
Save
This natural high-value formula will help you build a lean, healthy body while sticking to your diet plan. We provide the energy you need to reach your peak performance. Our Performance Diet & Energy supplement will provide metabolic support and the energy you need to get through your Peloton spin class, gym class, a long walk, yoga, or just move more throughout the day while beating back your hunger.
Loaded with 367mg of green coffee bean extract, 500mg of garcinia cambogia, 100mg of citrulline, and 200mg of green tea leaf extract, this Performance Inspired diet and energy supplement will increase stamina and focus, beat back hunger, and energize your day with two easy-to-take capsules.
Give us a shout-out and tag @PerformInspired, #PerformanceInspired, and #InspiredToBeBetter. Real customers are our brand ambassadors, so please follow us and share your inspired story and help inspire others.
Key Ingredient Heroes
Green Tea: Green tea is about 30 percent polyphenols by weight, including large amounts of a catechin called EGCG. Catechins are natural antioxidants that help prevent cell damage and provide other benefits. These substances can reduce the formation of free radicals in the body, protecting cells and molecules from damage. These free radicals are known to play a role in aging. EGCG (epigallocatechin gallate) is one of the most powerful compounds in green tea. It has been studied to treat various diseases and may be one of the main reasons green tea has such powerful medicinal properties.
Garcinia Cambogia: Garcinia cambogia contains a compound called hydroxy citric acid that may inhibit an enzyme that helps your body store fat. Theoretically, the fat would instead be burned as calories. Garcinia cambogia can increase the levels of the neurotransmitter serotonin—a feel-good messenger in your body. This may enhance your mood and reduce stress-related eating.
L-Citrulline: L-citrulline boosts nitric oxide production in the body. Nitric oxide helps your arteries relax and work better, which improves blood flow throughout your body. This may be helpful for treating or preventing some diseases. The amino acid citrulline is gaining popularity as a supplement for health and exercise performance. It's produced naturally in the body and found in foods, but taking supplements increases citrulline content in the body above typical levels. Citrulline can also help widen your blood vessels and may play a role in muscle building.
Green Coffee Bean Extract: Several studies have shown that caffeine can boost metabolism by 3-11%. Green coffee beans are the same as regular coffee beans, except that they haven't been roasted yet. They are high in a substance called chlorogenic acid. Studies have shown that chlorogenic acid can reduce body weight, reduce fat absorbed from the diet, reduce fat stored in the liver, and improve the function of the fat-burning hormone adiponectin.
Plus, we added superstar support ingredients to this proven formula to turbocharge your day and work together to exceed your expectations! Read the Supplement Facts Panel linked above to see this entire amazing formula. It's a top seller because it works!
Fuel your life with supplements you can trust. We put our names on the front label because we are proud to stand behind our products! We are honest in our marketing and our formulas!
BIG 60 count bottle.
Directions: As a dietary supplement, take 2 capsules 1 to 2 times daily. For best results, take 30 minutes before the two largest meals of the day. Also use as a pre-workout by taking 2-3 capsules 20 minutes before exercising.
Add a Review
Add a review!!!
Nice Job
Thank You for the supplements I ordered .They were both here quick!! I take then daily & noticing results.
Works great and no drop or shakiness
I'm always hesitant to try different energy pills. I got These because they were all natural, but supposedly not give You that energy drop and no shakiness. I was Pleasantly surprised these did not have any of that. The pills are large, but not as big as other ones I tale No shakiness or energy drop, try these out
Nice energy boost
I will say straight off that I like this product. I have problems with irregular energy and struggle to keep my energy up a lot of the time. This has been helpful in those days when I really need my energy to be consistent and reliable. If I take this a bit before a meal I feel non-jittery consistent energy later on. It helps me to fit in a workout when I might have opted out of it that day. I also have to do some manual labor work and it's helped me with that too. It doesn't leave me shaky or drop me later either so it seems to stimulate my energy more naturally. I'm very caffeine sensitive at times and this did not bother me or give me a headache. I will continue to use!
I felt energized without the shakes!
I consider myself a healthy individual but some days, I like an energy drink but the carbonization bothers me sometimes. These energy and diet support capsules really gave me the push of extra energy to finish projects and NO shakes. Will definitely be replacing my energy drinks!
Weight Management & Support
This works amazing if your doing a workout and trying to lose weight and maintain a certain goal. Once you maintain your ideal weightless this controls it and helps to give your body the right about of energy and nutrients your body needs to maintain your weight and help keep ot off.