Sale!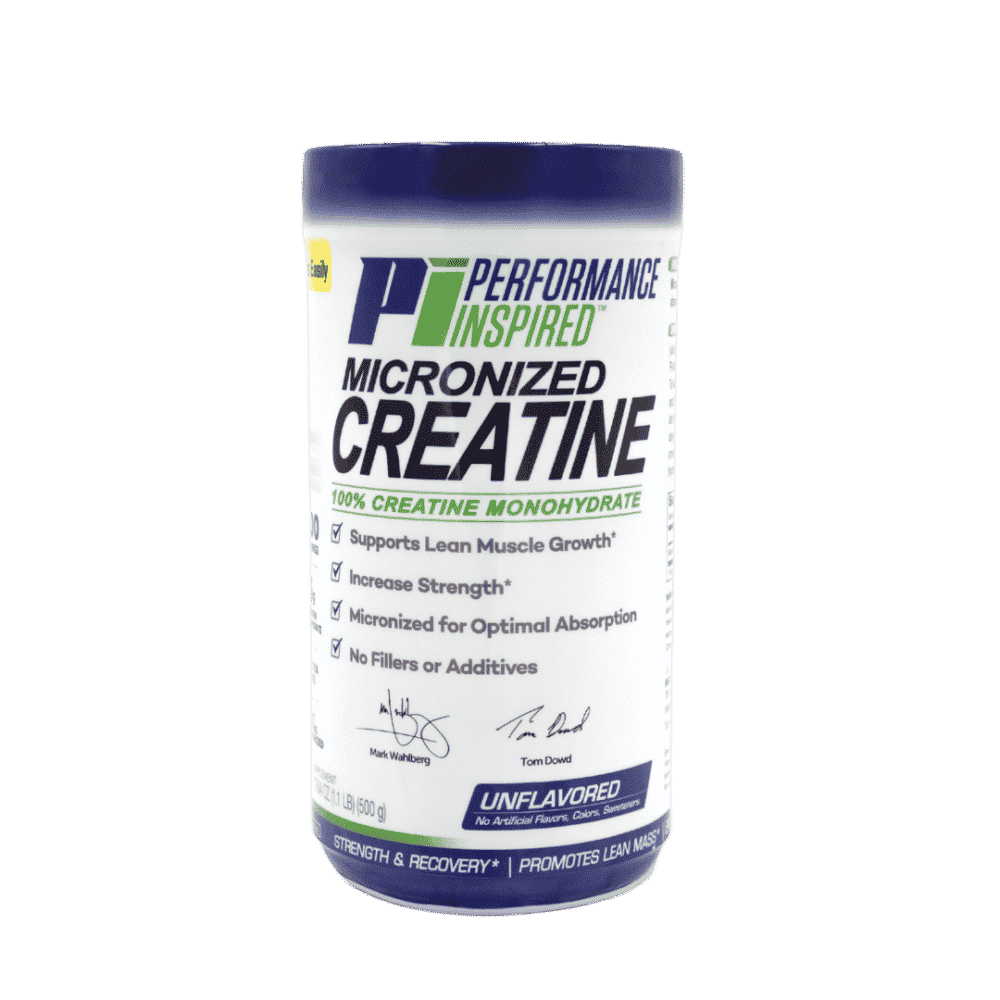 Pure Micronized Creatine
In stock
This is a pure 100% Micronized Creatine Monohydrate! Our high-quality Micronized Creatine will fuel your workouts and recovery, promote overall strength, and help build lean body mass. Creatine is proven safe and is one of the most thoroughly researched supplements in the history of sports nutrition! Creatine has been shown to increase muscle strength, power, endurance, and cell volume. It is also one of the safest supplements and has been well proven to exceed any fitness goal and muscle recovery and growth. Creatine is the PERFECT addition to any workout program for both men and women!
Simply clean and pure creatine will fuel strength and power and help you exceed your fitness goals to gain solid, quality muscle. PI creatine is a real value with a net weight of 500 grams and a BIG 100 servings per container! When you compare our values and formulas, you will upgrade to Performance Inspired! 
We put our names on the front because we are proud to stand behind our products, and we don't rely on overblown marketing hype and paid endorsers to sell our products. We are honest in our marketing without bodybuilder hype, overstated claims, or paid endorsers. We use real customers! Plus, we use only clean, simple formulas with meaningful and proven ingredients you can trust!
You will quickly realize why so many people love our products—from hardcore and professional athletes to the everyday athletes who are just starting the healthy journey and want clean, quality products they can trust. Owners Mark Wahlberg and Tom Dowd never settle for mediocre, and they created PI to cut through the current offering of brands with BS claims and bad formulas loaded with artificial and sketchy ingredients.
Banned substances free and always made in world-class GMP facilities! Give us a shout-out and tag #PerformanceInspired and #InspiredToBeBetter. Real customers are our brand ambassadors, so join the "natural is better" revolution!
Give us a shout-out, follow @PerformInspired, and tag #PerformanceInspired or #InspiredToBeBetter. Real customers are our brand ambassadors, so we need and would love your support! 
Click for Supplement Facts Panel: Pure Micronized Creatine
Save
Save
Our pure Micronized Creatine product will fuel strength and power and is unflavored and contains no fillers or additives. This powder mixes well, is micronized for optimal absorption, and will stay suspended in solution longer, all while supporting lean muscle size/growth, strength, and recovery.
Ideal usage:
Stack into your workout shake or drink separately
Mix into your favorite beverage
Use daily to maximize your fitness goals
What happens if I miss a dose? Skip the missed dose if it is almost time for your next scheduled dose. Do not use any extra to make up the missed dose.
Unflavored for maximum usability. It has the highest mixability and is easily used with a shaker. 
Store in the sealed container as directed on the label, away from moisture and heat.
Creatine is normally found in the body. It is also found in meat and fish. Most creatine in the human body is stored in the muscles. Creatine is a source of energy for muscle contraction and is also involved in muscle growth. Creatine has been used in alternative medicine as a possible effective aid for enhancing athletic performance and for increasing muscle strength in people with heart failure, muscular dystrophy, and McArdle's disease (a genetic disorder). It may also be possibly effective in treating Parkinson's disease and gyrate atrophy (a genetic eye disorder that affects the retina and causes vision loss).
Let us know how you're doing. Contact us on social media at @PerformInspired and tag #PerformanceInspired and/or #InspiredToBeBetter.
Real customers are our brand ambassadors, and we love hearing from you and sharing to help inspire others! Join the healthy revolution!
Uncompromised quality, value, and purity is promised in all our products! Thank you! And Stay Inspired To Be Better! 
Thank You and Stay Inspired,
Mark Wahlberg & Tom Dowd
#InspiredToBeBetter
Add a Review
Add a review!!!