We have received a good amount of Apple Cider Vinegar questions since launching this new fantastic product in December of 2018. We are here to answer the questions!
What is Apple cider Vinegar?

Apple Cider Vinegar was originally used in cooking and cleaning. However, its popularity has grown in the health world because of the acetic acid it boasts. Acetic acid is the main component of vinegar, and this fatty acid helps your body turn fat into fuel! Acetic acid will help lower fasting plasma glucose as well. Some people take a spoon full of Apple Cider Vinegar daily to reap its benefits. However, the taste is not pleasant, which is why Performance Inspired created the Apple Cider Vinegar Capsule.
What is Performance Inspired Apple Cider Vinegar? 
We put 1000mg into a super convenient capsule and then we added an important Water Balance Blend to create one amazing formula you will love! No artificial anything and only the best ingredients!  We provide real value with this packed, efficient formula!
Where can I find the Supplement Facts Panel?
Like all of our products, to the right under the product description you will see Click for Supplement Facts Panel: Apple Cider Vinegar. Or, keep reading to get the answers to your questions! Here's the panel: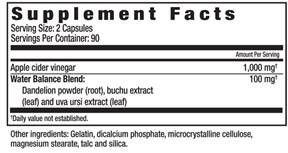 How many Capsules come in a bottle?
180 Capsules come in a bottle which equals out to 90 servings per container.
I have trouble taking big pills, how big is the Apple Cider Vinegar Pill?
The pills are an inch long by quarter inch thick. Yes, you can break the capsule in half. The pill has a sand texture inside with a little sandy taste to it. The capsules themselves have no taste.
When should I take my Apple Cider Vinegar Capsule?
As directed on the bottle, you should take 2 capsules 1-2 times daily on an empty stomach or with Food.
Where can I buy Performance Inspired Apple Cider Vinegar?
Right here: Apple Cider Vinegar
Have more questions about our Apple Cider Vinegar? Comment below, we love to hear from you!