When it comes to food cravings, chocolate tends to be high on the list. Everyone craves it at some point, whether it be in the form of cake, cookies, candy, or just plain chocolate. Of course, a little chocolate every now and then is not a bad thing. In fact, chocolate has several health benefits due to its antioxidant properties. Medical News Today reports that some studies have suggested chocolate could lower cholesterol levels and prevent memory decline. So why aren't doctors telling us to eat Hershey bars every day?
Even though chocolate has been proven to have some health benefits, it is also high in calories and sugar. When your willpower caves too often and you find yourself indulging in chocolate after every meal, the calories will begin to add up and eventually lead to weight gain. So how can you fulfill your chocolate cravings but stick to your clean eating diet? The answer is simple: protein-rich chocolate smoothies.
Performance Inspired Nutrition's entire line of supplements contains all-natural ingredients of the highest quality, with chocolate flavors for the performance whey protein (natural chocolate), ripped whey protein (mocha) and mass gainer (mega chocolate milkshake). Choose the product that you need and if you love chocolate as much as we do, try adding it to one of our five favorite protein-rich chocolate smoothie recipes below.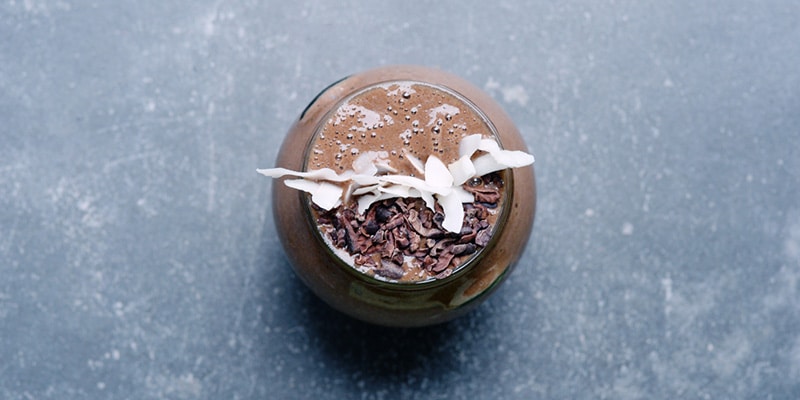 1. Classic Chocolate Milkshake Protein Smoothie
The sweet, creamy texture of milkshakes makes one of the most tempting desserts. But did you know that fast food milkshakes can have between 500 to 1,000 calories in just one milkshake? Not to mention they are typically close to 30 grams of fat (and not the good kind of fat, by the way). If you're trying to lose weight and build a toned physique, fast food milkshakes just aren't going to cut it. What does cut it, however, is our delicious classic chocolate milkshake protein smoothie. Coming in at just under 400 calories, this mock milkshake will leave you feeling satisfied while also giving you the protein needed to build muscles and lose weight. To create this creamy treat, combine these simple ingredients and blend until smooth:
2 Tbsp. plain Greek yogurt
1 tsp. unsweetened cocoa powder
2 scoops of either Natural Chocolate Performance Whey Protein OR Mega Chocolate Milkshake Mass Gainer
½ cup of water
1 cup of ice
2. Chocolate Peanut Butter Cup Protein Smoothie
A deliciously thick and creamy peanut butter cup smoothie loaded with protein. Protein enables you to build bigger and stronger muscles, allows muscles to heal faster, and staves off hunger, according to bodybuilding.com. This chocolate and peanut butter flavored shake is a healthy treat that is perfect for a breakfast, snack, or after a challenging workout.
1 cup chocolate milk or almond milk
2 Tbsp. plain Greek yogurt
3 Tbsp. peanut butter
1 cup of ice
3. Dark Chocolate Almond Joy Smoothie
It used to be that there was nothing more joyful than an Almond Joy. Until this smoothie came along! Satisfy your sweet tooth with the dark chocolate, coconut, and almond flavors of this smoothie while also packing in a double dose of protein from the almond butter and the Performance Whey Protein powder. To enjoy this smoothie, simply blend together the following ingredients:
½ cup plain Greek yogurt
⅓ cup dark chocolate almond milk
2 Tbsp. almond butter
½ teaspoon coconut extract
1 cup of ice
Optional toppings: almond slices, dark chocolate shavings, unsweetened coconut flakes
4. Mocha
For many people, morning coffee is a necessity. But did you know that having protein in the morning can be beneficial as well? According to Chalene Johnson, New York Times best-selling author and celebrity fitness trainer, "I love starting my day off with a protein shake. Protein in the morning has been shown to help regulate blood sugar levels and its slower absorption rate helps you feel satiated longer."
This smoothie gives you the caffeine you need along with a punch of protein to get you through even the hardest of days. To give it a try, blend together the following ingredients:
½ cup milk or almond milk
½ cup cold brewed coffee
1 scoop of Mocha Ripped Whey Protein powder
1 teaspoon of unsweetened cocoa powder
1 and ½ cups of ice
5. Chocolate Covered Strawberry
Chocolate covered strawberries don't have to be limited to Valentine's Day or other special occasions. This smoothie creates the flavor of chocolate covered strawberries by combining the tart taste of real strawberries with the sweetness of chocolate while still providing you with ample protein. Slice and freeze fresh strawberries ahead of time or purchase frozen strawberries, toss them and the remaining ingredients into your blender and fire it up!
1 cup of spinach or kale
1 cup of water
½ cup of frozen strawberry slices
½ cup milk or almond milk
1 teaspoon of unsweetened cocoa powder